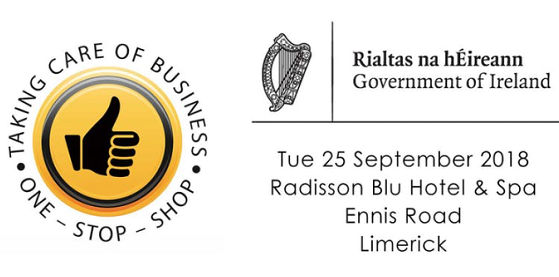 Do you own or manage a small business or are you thinking of starting a new business? Then come along to this FREE event and get help you need to run and grow a sustainable, compliant business.
More than 25 State bodies and services, including the Workplace Relations Commission, will be available to offer free expert advice and information to SMEs, start-ups and entrepreneurs in the Mid-West.
The half-day event is specifically targeted at people thinking of starting a business as well as small business owners and managers. In the context of Brexit, it is also an opportunity for businesses to seek advice from a range of experts on how to diversify and expand into new markets.
An initiative of the Government of Ireland, and run by Department of Business, Enterprise and Innovation in conjunction with the Health and Safety Authority and the Food Safety Authority of Ireland, 'Taking Care of Business' builds on the success of previous events in recent years, which have been attended by approximately 2,500 people from across the country.
As spaces for the half-day event are limited register, free of charge, now at  www.takingcareofbusiness.ie.
When: 25th September 2018
Where: Radisson Blu Hotel & Spa, Ennis Road, Limerick
#TCOB2018
#supportforbusiness